I'm designing stuff on Zazzle, a print-on-demand thingie place.
I've been toying with this idea for a while. I had signed up to sell on CafePress and Spreadshirt in 2007, but never did much with it.
I've been designing tee shirts for years and I created a ton of designs for products when I was first looking into licensing in 2004. Not to mention the years of surface design since then! So I have a lot of experience and material to draw from. It's a natural fit.
I took the plunge last week and I am having so much fun with it!
I get to do my favorite parts---design and marketing--- and they print and ship. Perfect!
And  I get to crack myself up and make things like this you=awesome mug :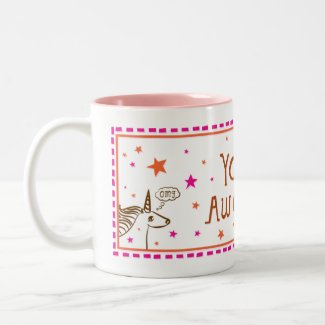 And um, I designed this "I brake for Unicorns" bumper sticker:
You know, because I am kind of geeky for unicorns. As you may have noticed.
 And also maybe a little bit silly. Just a little bit.
You can tell because I designed these:
Guess what?
Chicken Butt!
That's right. Guess What Chicken Butt shoes.
I love these little guys. I drew them years ago, but they have stolen my heart again.
I kinda wanna do a fabric line based on them. Would you buy chicken fabric? Hmmm.
Of course, I couldn't resist making a bumper sticker:
And, um, a mug: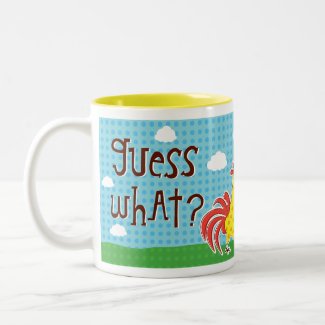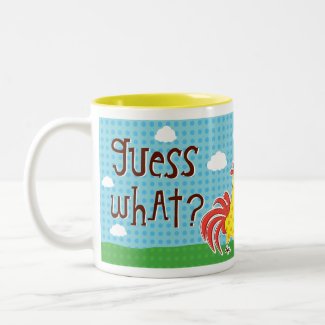 Because that's what mature, adult women do on Saturday nights, right? They design 'Guess What Chicken Butt' merchandise. Right?
Did you see that the chicken's butt is right there next to where it says 'Chicken Butt.'? Planned it that way, yo! Also, if you are right handed, the "Guess what?" side faces out , becoming a perfect trap for coworkers who will say "What?"  Mwah aha ha.
Did you know that there are other fabric designers on Zazzle?
Yup! The first one I had heard of doing it was Heather Ross, who tortured me by putting her Far Far Away Unicorn on shoes.
And how about some Betz White-designed shoes in her lawn chair pattern?
Also: Bari J and Patty Young.
I need to order my own Sugar Snap shoes, based on my first fabric line:
pro-keds:
If you want to be notified when I add something new to the shop, at the bottom of the sidebar here, click on 'Join Fan Club!' and then, you know... do so!
I hope you'll bear with me showing you what's new from time to time!
xo,
melissa